The CostAzzurra Residence is less than 50 meters from the beach in Grottammare, a town known as the "Pearl of the Adriatic" that stands out on the Riviera of the Palms. It is possible to reach the down town Grottammare and San Benedetto del Tronto with a convenient 15-minute walk or even 10 minutes by bicycle.
Our city has been awarded the Blue Flag since 1998, the three sails of the Italian Touring Club, and is part of the Most Beautiful Villages of Italy circuit.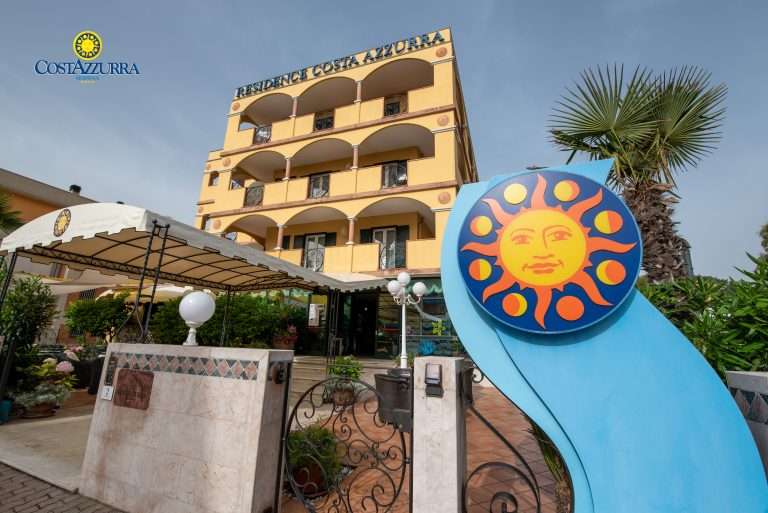 Services of the CostAzzurra Residence
Before being an accommodation facility, we are above all a family that opens the doors of their "home," yes because that is how we welcome our guests. This year it is 27 seasons that 3 generations (parents, children and grandchildren) express their passion in the family management of the Residence. Our added value consists precisely in this, making you experience your vacation from the first contact with us.
Thoughtfulness and attention to the most diverse needs of guests are the right ingredients for a memorable vacation you have always dreamed of. All the conveniences and familiar atmosphere will give you the experience of a holiday you will surely remember.
We provide our guests with a swimming pool usable throughout the day from 09:00 to 20:00.
The outdoor pool lined entirely in mosaic consists of a pool for adults and a specially created pool for children to play in complete safety.
The total size of the outdoor pool is approx. 10 m x 5 m. The pool is surrounded by a sun terrace equipped with tables, chairs, umbrellas, sun loungers and deck chairs to be able to enjoy magnificent moments in the sun.
Attached to the pool is an olive grove with games for children and a gazebo with table and chairs for those who want to relax a bit or let the children play in the greenery.
On the ground floor, our bar can meet multiple needs.
Every morning you can have a rich Continental breakfast buffet between 7:30 a.m. and 10:30 a.m. (at a cost of €7 per person) where you can sample everything from a simple croissant and cappuccino to cold cuts via yogurt, muesli, tarts, juice, toast, cookies, and fresh fruit.
In short, everything from sweet to savory to get the best start to a wonderful vacation day.
In addition to breakfast, the bar is also stocked with drinks, snacks, and ice cream.
At the beach you will only have to think about having fun with the entertainment or just relaxing under the umbrella with your loved ones.
Beach service with an allocation of 1 umbrella, 2 sunbeds, evening entertainment, water aerobics, muscle awakening, baby club, aperitif game.
A promenade filled with palm trees, orange groves, fountains and water features is definitely worth a stroll.
So why not take advantage of the rental bicycles which can be taken advantage of directly at our facility (cost €1 per hour, €7 for 24h, €5 per day for a week or more).
Don't worry about parking because with us the parking space is always reserved for you.
Do you like to be always connected? We have the solution for you : Free Wi-fi throughout the facility.
We also have a garden with games next to the pool will create a lasting memory in both them and you.
Also available is a laundry room with coin-operated washing machines (cost €5.50 per token for a 5 kg load of laundry including detergent and fabric softener), ironing board and iron.